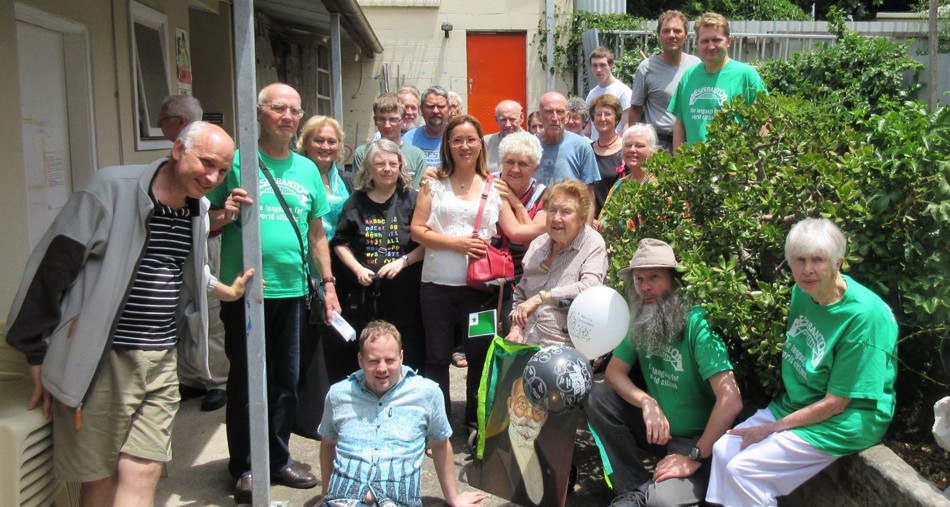 13 December 2015
Chris Holliss reports:
Thirty people came to the very successful celebration. It was wonderful to meet long-time friends. We chatted about the past year, even past years. We also enjoyed delicious food. This was evident by the empty plates strewn about the tables afterwards. Two special cakes were saved from the hungry hoard: gifts for Eunice Graham (for her birthday) and Margaret Chaldecott (for her many, many years of secretarial work for the Esperanto Federation of NSW).
The good atmosphere continued with three interesting talks:
Richard Delamore showed a video about his studio and collaborators. He explained the production and publishing on YouTube of videos, which he creates.
Daniel Kane spoke about the first Esperanto museum in China, which is situated in a tiny village far from anywhere, in fact in "the middle of nowhere", but its exhibition has many different items. Daniel said that it was a delightful surprise to discover the museum.
After a break to take photos, Rainer Kurz showed us a video of his interview with Reinhard Selten, who was awarded a Nobel Prize for game theory. That video is now available via Amazon.com.
Lyudmila Kelloway crowned the program. She and her musicians, with their beautiful songs and costumes, transformed Esperanto House into a concert hall.
An excellent Zamenhof Day! As Eunice said, "Ĉiuj feliĉas kuniĝi (Everyone is happy to meet)." I agree.