'I feel part of a worldwide community'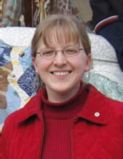 Name: Erin Piateski
Country: USA
Profession: Mechanical engineer
I started learning Esperanto in high school, because I'd heard that Esperanto was an easy language, and so I thought Esperanto might be my only chance to speak a foreign language fluently. I found that friends and members of my family who had taken courses in a language could hardly ever speak that language, even at a basic level. So I studied Esperanto, hoping it would be my introduction to the world of foreign languages. At the time, I never imagined what I would later be able to do with the language: I just wanted to learn a foreign language, to be able to say that I speak more than one language.
Despite this simple plan, Esperanto has become an important part of my life. I now have a boyfriend from abroad and I speak only Esperanto with him. In that sense, speaking Esperanto has become part of my daily activity – I don't just use it to talk with people in other countries, I also use it to discuss the weather, to debate recent politics, and to ask if there are enough eggs in the fridge to cook pancakes. But Esperanto has given me more than just a relationship: it has changed the way I see the world. It's often said that you can talk to people from every country in the world using English, and that's true. But not many people know that it's equally true for Esperanto. I've found that there are big differences between using English and Esperanto for international communication. I feel that using Esperanto puts people on a level footing, not only as far as language is concerned, but also from a social point of view.
Through Esperanto, I feel that I have "friends I don't know" almost everywhere in the world. When I travel, either for work or on vacation, I can almost always find a local Esperantist to meet. In a country I've never visited before, this means that after just one evening, I no longer feel like a foreigner in the new country. Using a common language, I can easily talk to other people: I don't need to worry about reading the menu at a restaurant or being sure I understand the local customs, because the local Esperantists help me with that. As a result, I feel part of a worldwide community: not as an American, but as an Esperantist.
'My main interest in Esperanto lies with its culture'

Name: Rogener Pavinski
Country: Brazil
Profession: Filmmaker and musician
Esperanto activities include: Musician in the rock group Supernova, Creator of the film Esperanto estas…, TEJO board member
In 2005 I took part in a competition run by TEJO (World Esperanto Youth Organization) and got financial help to travel to the International Youth Convention in Poland. I seized the opportunity and spent a month at four Esperanto events in four different countries. That was an unforgettable adventure for me, because I'd never travelled abroad before!
My main interest in Esperanto lies with its culture, and as I'd always wanted to create music in Esperanto, I started working on songs with some friends. The result was the creation of a rock group and an album called Supernova, released in 2006 by French record label Vinilkosmo. I also have professional links with Esperanto. One of the most important projects I've undertaken so far has involved collaborating internationally on the documentary Esperanto estas… (Esperanto is…), which I edited. I've also produced a music video for Supernova, and I continue to produce various other short films.
'Thanks to Esperanto I've enjoyed many close friendships abroad'

Name: Satoo Reiko
Country: Japan
After the end of the Second World War, my older brother learned the Latin alphabet. While my mother was supervising his studies, she told me and him about Esperanto, which she'd learned when she was young. For some reason her words impressed me greatly and stayed in my heart for a long time. Some 42 years later, I read an article about Esperanto in a newspaper. This really interested me because I missed my mother, and it inspired me to join a course that was taking place in the town hall at the time. I plucked up the courage to go to the classroom, and I began studying Esperanto every Wednesday from May to October, except in August. As soon as the course ended, I started corresponding with a Bulgarian woman, and hugely enjoyed it. Not long afterwards, I received an unexpected letter from a Czech woman who wanted to correspond. In 1995, when I travelled to Eastern Europe with my husband, I met her and her husband in Prague. I don't have the words to express how moving this was for me. Thanks to Esperanto and its speakers, I've enjoyed many close friendships and pleasant trips abroad.
Testimonials from Discover Esperanto


More testimonials, and other information about Esperanto, are available at WorldLanguage.info.